Home >> News >> Events
IEA launched Energy Technology Prospective 2010 Report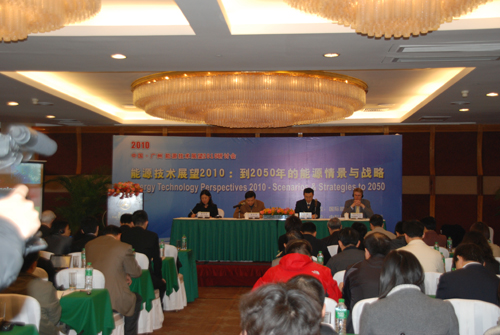 March 9th 2011, International Energy Agency (IEA) launched its Energy Technology Prospective 2011 Report and convened the joint seminar with British Consulate General Guangzhou and Guangzhou Institute of Energy Conversion, CAS in Guangzhou.
Related experts from energy and low carbon research areas in western China and the research team of IEA attended the seminar. Dr Peter Taylor, head of Energy Technology Policy Division of IEA and the deputy director of Guangzhou Institute of Energy Dr Zhao Daiqing gave presentations respectively.  
ETP2010 used a techno-economic approach that assesses costs and benefits and examined least-cost pathways for meeting energy policy goals while also proposing measures to overcome technical and policy barriers. Specifically, ETP 2010 examines the future fuel and technology options available for electricity generation and for the key end-use sectors of industry, buildings and transport of OECD Europe, the United States, China and India. It then sets out the technology transitions needed to move to a sustainable energy future, and provides a series of technology roadmaps to chart the path.
ETP 2010 also raised new concept chapters on financing, behavioral change, the diffusion of technologies amongst developed and emerging economies, and a discussion of the environmental impacts of key energy technologies. The representative of IEA Dr Peter Taylor introduced: ETP 2010 discussed how to response energy's new development pattern worldwide through the revolution of energy technology and the broad application of low carbon techniques. IEA proposed the feasible solutions regarding to GHG emission abatement technologies in order to reach global low carbon development. 
Aiming for the development of low carbon technologies, this seminar interpreted ETP2010 report to know global energy's development opportunities. It is meaningful for achieving energy structure transform and taking low carbon society practices.