Home >> News >> Events
Prof. Olaf Kolditz and UFZ Delegation Visits GIEC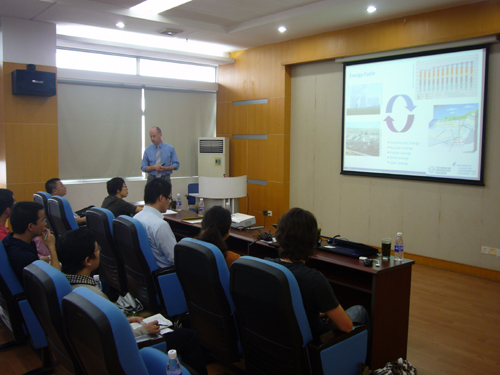 Helmholtz Centre for Environmental Research (UFZ) and Technische Universität Dresden delegation led by Prof. Olaf Kolditz visited Guangzhou Institute of Energy Conversion (GIEC), CAS from 28th to 30th April, 2011 at the invitation of Dr. Nengyou Wu.
Prof. Olaf Kolditz, the members of UFZ delegation, scientists and students from GIEC attended a seminar on 28th April, 2011. Dr. Nengyou Wu introduced GIEC and Guangzhou Center for Gas Hydrate Research (CGHR), CAS. Dr. Nengyou Wu also gave a presentation about gas production strategy for the hydrate deposit in the South China Sea. Prof. Olaf Kolditz introduced UFZ and OpenGeoSys, a software that could be used to model groundwater, CO2 sequestration, nuclear waste storage, gas hydrate, enhanced geothermal system (EGS), solar and biomass energy. The members of UFZ presented a case study of EGS in Gross Schoenebeck, a contaminant transport model for Nankou, and demonstrated a 3D scientific visualization system, respectively. Yuchao Zeng showed the research of a numerical simulation at Zhangzhou Geothermal Field.
After the seminar, Prof. Olaf Kolditz and his party visited laboratory of CGHR. Dr. Xiaosen Li introduced gas hydrate formation and 3 D gas hydrate dissociation facilities.
Prof. Olaf Kolditz and his party were very interested in the simulation and experimental research and commented highly on the academic performance of GIEC. They also confirmed the desire to consolidate the friendship and cooperation with GIEC and CGHR in the energy field.