Home >> News >> Events
GIEC Attends the 7th International Conference on Gas Hydrate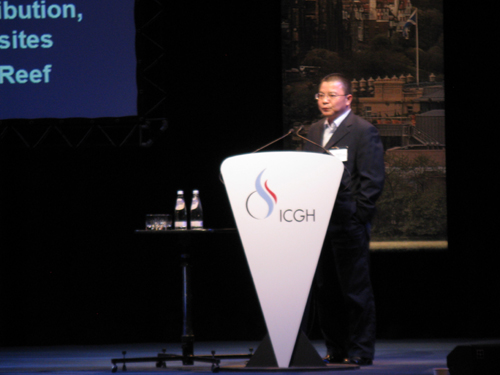 The 7th International Conference on Gas Hydrate was convened in the international conference center in Edinburgh, UK from 17th July, 2011 to 21th July, 2011. More than 600 experts from over 30 different countries and regions including China, US, Japan, ROK, UK, Canada, Norway, Germany, Russia, France, India, Australia, New Zealand, Brazil, Denmark, Iran and Taiwan participated in this grand meeting. Professor Nengyou Wu, Deputy Director-General of Guangzhou Institute of Energy Conversion (GIEC) and Managing Director of Guangzhou Center for Gas Hydrate Research, took part in the meeting, along with professor Deqing Liang and assistant professor Dongliang Li from gas hydrate research center of GIEC. During the meeting, Nengyou Wu delivered a report on the topic of "Progresses in the Gas Hydrate Research in China's Ocean".
A total number of 602 theses were submitted to the conference, in which GIEC contributed 20, accounting for 22% in the total 91 theses presented by mainland experts. These theses covered a wide range of research areas, including basic properties of hydrates, geochemical characteristics, geophysical interpretation, hydrate derivatives application technology, and hydrate exploitation simulation, etc. With four keynote reports, 96 conference reports (4 from Chinese mainland), and 502 post reports, this grand meeting fully displayed the latest accomplishments and technical progress achieved in the field of gas hydrate research, while at the same time offering an exellent platform for experts from different countries and regions to have an in-depth exchange with each other.
The last but not the least item on the agenda of this conference was to decide where to hold the next session of the International Conference on Gas Hydrate. Four bidding applications were submitted by four research institutes from three countries, namely, US, China and India. Thanks to the extremely exellent bidding speech delivered by prof. Nengyou Wu and also his successful application statement and oral defense, the International Science Committee finally decided by voting that the 8th International Conference on Gas Hydrate will be held in Beijing, China in 2014.