Home >> News >> Events
Workshop on Science, Technology and Innovation Cooperation held in Bangkok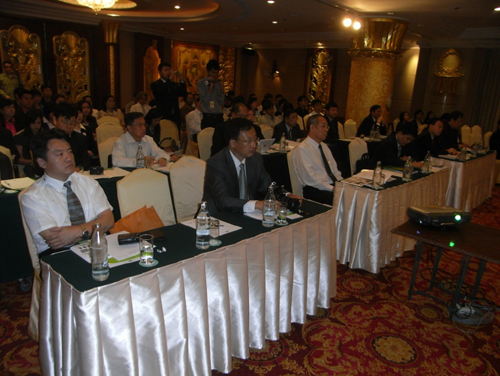 Workshop on Science, Technology and Innovation Cooperation between the Chinese Academy of Sciences (CAS) and the Ministry of Science and Technology of Thailand held in Bangkok on 14th, September, 2011. About 100 representatives from both countries attended the event.
The workshop focused mainly on 4 aspects: Astronomical, remote sensing, biodiversity and energy. Experts from Thai and China introduced related R&D status of each field. Potential cooperation fields were brought forward according to the common interests of both sides after detailed discussion.
Prof. Haibin Li from Guangzhou Institute of Energy Conversion introduced the status of biomass energy utilization in China and discussed with Thai colleagues. The experts from two countries are interested in the cooperation on cellulose fuel ethanol, biodiesel, biomass gasification and biomass to liquid fuel process.
Prof. Haibin Li discussed with the researchers from Siam Cement Group(SCG) on the cooperation potential in the field of renewable energy during the stay in Thailand. SCG will send a delegation to visit GIEC in the middle of coming October.