Home >> News >> Events
Kickoff Meeting of NSFC-JST Strategic Cooperative Project " Synthesis of advanced liquid fuels by gradual decomposition and catalytic transformation of all biomass components" Held in Guangzhou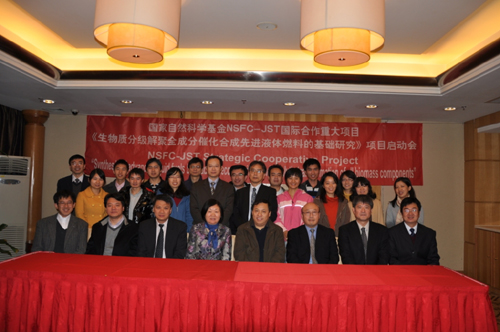 Kickoff meeting of NSFC-JST Strategic Cooperative Project " Synthesis of advanced liquid fuels by gradual decomposition and catalytic transformation of all biomass components" was held in Guangzhou on 24th Dec 2011. Director Yinglan ZHANG from NSFC, Prof. Noritatsu Tsubaki, Associate Professor Yoshiharu YONEYAMA, Dr. Liu Guiqing from Toyama University, Prof. Michikazu HARA from Tokyo Institute of Technology, Chief Researcher Dr. Hiroyuki SEKI from JX/Nippon Oil Company, Prof. Yukihiko Matsumura from Hiroshima University, Prof Longlong MA, Prof. Haibin Li, Prof. Tiejun Wang, Director Zhouyu Zhou etc. attended the kickoff meeting. This project based on the functionalities of lignocellulose biomass special structure, investigated the synthesis of high-quality liquid fuels by gradual decomposition,thermo-chemical gasification, catalytic synthesis from bio-syngas and aquous phase catalytic transformation of lignin-cellulose hydrolysis compounds. The works of this project would provide theory and novel method for the development of lignocellulose based liquid fuels production.
Prof. Tiejun Wang from GIEC gave an academic report of "Synthesis of advanced liquid fuels by catalytic transformation of biomass", while Prof. Noritatsu Tsubaki and Prof. Michikazu HARA gave invited talks on "From C1 Chemistry to C2 Chemistry: New Catalyst and New Process" and "Heterogeneous acid catalysts for environmentally benign chemical production", respectively.
In the afternoon, the Japanese delegation visited Laboratory of Bio-energy Center in GIEC and 1000 ton/year biomass gasification and DEM synthesis Demonstration System in BOLO Town.