Home >> News >> Events
Kick-off Meeting and 1st Workshop of Gas Hydrate Helmholtz-CAS Joint Research Group held in Guangzhou
The kick-off meeting and 1stworkshop organized by Helmholtz-Chinese Academy of Sciences (CAS) Joint Research Group with a topic of "Characterization and Energy Production Strategies of Gas Hydrate Depositsin the Northern South China Sea" has been convened from 15th to 17th April in Guangzhou Institute of Energy Conversion (GIEC), CAS. Prof. WU Chuangzhi, the president of GIEC, Dr. ZHANG Xiao, the Project Officer of the Diversion of European Affairs, Bureau of International Cooperation, CAS, group members from Helmholtz Centre for Ocean Research Kiel (GEOMAR), German Research Centre for Geosciences (GFZ), Helmholtz Centre for Environmental Research GmbH (UFZ) and GIEC participated the event. Scientists from Guangzhou Marine Geological Survey, Qingdao Ocean Institute, Sun Yat-sen University and Beijing University of Technology presented the workshop.
WU Chuangzhi gave a welcome speech and ZHANG Xiao introduced the background of the setting up of the joint research group and the outlook of project. After the kick-off meeting, 13 scientists from leading research groups introduced their advanced work related to gas hydrates. The presentations included fluid flow, cold seep, properties, biogeochemical reaction and signals related to hydrates reservoir and numerical and experimental researches of natural gas production, which focus on the objective of the project.
The group members had intensively discussed the cooperative plan and exchange of young scientists the secondary day.
The kick-off meeting and 1st workshop were complete success and initiated multilateral cooperation among the Chinese and German research agencies.
WU Chuangzhi gave a welcome speech on the kick-off meeting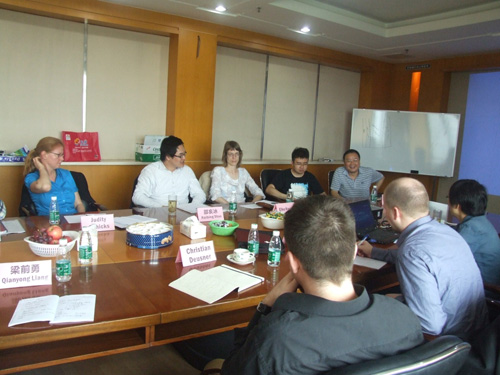 Exchange & discussion