Home >> News >> Events
2014 Attapulgite Clay Applications Symposium organized by GIEC held in Guangzhou
The "2014 Attapulgite Clay Applications Symposium" organized by Guangzhou Institute of Energy Conversion (GIEC), Chinese Academy of Sciences (CAS) was held on April 20 in Guangzhou. More than 50 researchers and entrepreneurs from across the country discussed the outstanding problems and feasible and practical solutions about the fundamental research and high-value utilization of non-metallic mineral, such as attapulgite clay, vermiculite.
Prof. Wang Aiqin, the director of CAS Xuyi attapulgite application technology research and industrial center and the vice-chairman of Xuyi county attapulgite strategic development committee, hosted the seminar. Prof. Wu Chuangzhi, the president of GIEC, gave a welcome speech.
Mr. Zhao Changgui, the chairman of Xuyi county People's Political Consultative Conference (PPCC) and the chairman of Xuyi county attapulgite strategic development committee, described the industrial development of attapulgite in Xuyi county and research cooperation betweeen GIEC and Xuyi county. Prof. Jia Demin from South China University of Technology (SCUT), Prof. Tan Shaozao from Jinan University (JNU) and A.P. Liu Shoujun from Taiyuan university of technology (TUT) made a report with a topic of "Research progress of Polymer - Halloysite nanotube composite material", " Study of intercalation, recombination and application of clay" and "Application attempt of attapulgite in gel ink", respectively. In addition, 4 scientists from other research institutes and universities introduced their advanced work related to attapulgite clay in adsorption, catalysis, building materials and environmental protection, etc.
After the workshop, Meeting participants visited the popular science base of GIEC, Analysis and Test Center and Laboratory of Energy and Chemical Engineering, and conducted an industry-university-research docking communication.
The workshop facilitated the academic communication between GIEC and Xuyi county and promoted the technology cooperation between research and development institution (R&D institution) and enterprise. Furthermore, the workshop would have a positive far-reaching impact on raising the attapulgite industrial technological innovation and promoting the transformation of resource advantage to economic advantage.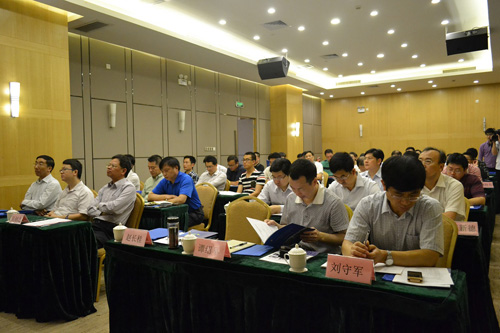 Conference site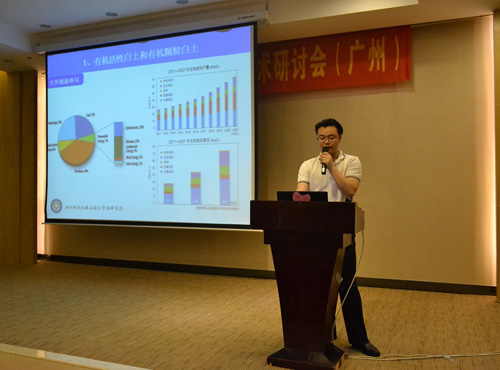 Academic report