Home >> News >> Research Progress
Guangdong- China's Pilot Province in Exploring a Shift to Low-carbon Economy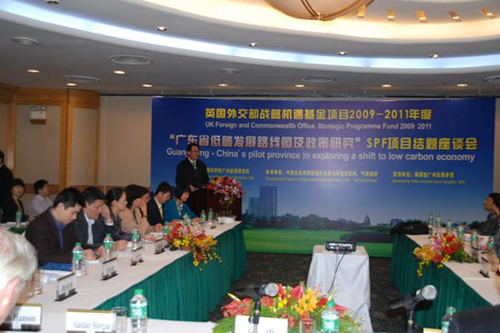 The research project focusing on the study of Guangdong low-carbon roadmap and facilitation policy named "Guangdong- China's pilot province in exploring a shift to low-carbon economy" was held in Guangzhou in the morning of March 31st.
Sponsored by the Strategic Programme Fund (SPF) of British government, the project was coorganized by Guangzhou Institute of Energy Conversion, Institute for Urban and Environment Studies Chinese Academy of Social Sciences and the Climate Group. With the purpose of promoting energy saving and emission reduction as well as facilitating the construction of low-carbon economic development mode in Guangdong Province, participants in this research project drew upon the successful experiences gained by Britain during its developing a low-carbon economy, while at the same time taking into account the status quo of Guangdong's economic and social development. Spacifically speaking, reseachers analyzed Guangdong Province's current condition of carbon emission, together with its tendency in the 12th Five Year Plan and its potential for reduction. In addition, they also put forward a general map, describing the goals and major tasks of developing low-carbon economy in Guangdong Province as well as the technological measures and policy suggesions concerning greenhouse gas emission.
The project completed the compilation of Policy Roadmap of the Low-Carbon Development in Guangdong Province, Technology Roadmap of the Low-Carbon Development in Guangdong Province, and Roadmap of Low-Carbon Development in Shenzhen City. All of these would serve as good examples and reference for the low-carbon technology development and low-carbon policy establishment, which is of great significance to the future exploration of a new mode for low-carbon development and the facilitation of low-carbon transformation in Guangdong.