Home >> News >> Research Progress
Six National High Technology Research and Development Programs (Six National High Technology Research and Development Programs ("863 Program") of GIEC Enjoyed Successful Acceptance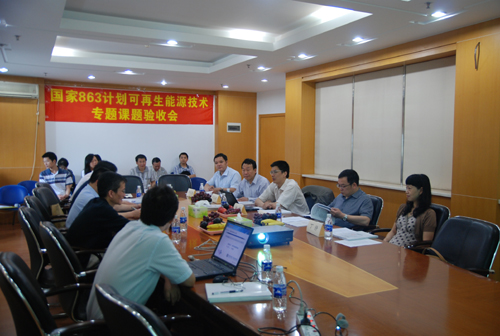 On May 14th, 2011, a group of experts organized by The High Technology Research and Development Center carried out project acceptance of six "863 Programs" undertaken by GIEC in the fields of advanced energy technology and renewable energy.
Six project leaders respectively reported the implementation and completion of their own projects. Listening carefully to the reports, the inspection team examined the materials and also raised detailed questions. In the end, experts in the inspection group unanimously agreed acceptance of the six projects for they have all fulfilled the tasks and targets laid down in the contracts.
Launched in 2007, these six "863 Programs" are mainly about biomass energy, solar energy and geothermal energy. Through exploratory research, we have achieved key breakthroughs in technology, materials and techniques, laying a solid foundation of research and technology for the development and utilization of renewable energy.