Home >> News >> Research Progress
Research in Low-Temperature Compression Absorption Heat Pump System Marked New Progress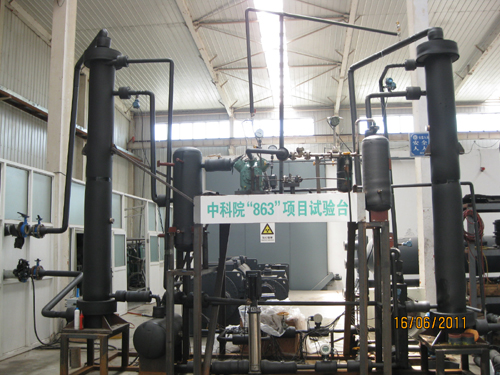 Recently, the National High-tech Research and Development Program (863 Program) named "Research in Low-Temperature Compression Absorption Heat Pump System and Its Key Technologies" undertaken by Guangzhou Institute of Energy Conversion, CAS (GIEC) gained new scientific progress.
Thanks to the active cooperation of Shandong Fuerda Air-conditioner Equipment Co., Ltd, GIEC's collaborating partner in this program, a testing equipment of compression absorption heat pump with capacity of 50kw was established and put into testing opration for nearly one month, which enabled researchers to obtain a series of important experimental data. Experimental results show that every technical index of compression absorption heat pump is higher than that of other similar products in China. Aiming at utilizing the geothermal tail water of 30-40℃, this experimenting equipment provides technical support for China's comprehensive and stepping utilization of low-temperature geothermal energy, while at the same time evidently strengthens China's competitiveness in the field of geothermal heat pump technology on the international arena.
Up to now, all research tasks of this program have yielded full completion according to the plan set down in the contract. Spacifically, the program obtains a series of core technologies with independent IPR, applies for five national patents, and issues seven high-level academic papers. In addition, the 50kw compression absorption heat pump testing equipment, which is the first one in China, has become significant cooperation fruit harvested by the geothermal joint research center co-established by GIEC and Shandong Fuerda Air-conditioner Equipment Co., Ltd.
The next step would witness further improvement of equipment performance and the R&D of modular heat pump carried out by the program team.