Home >> News >> Research Progress
The Project "Research and experiment of 10kW Medusa Wave Energy Conversion Device" Passed Acceptance Inspection
On March 25, a meeting was convened to appraise achievements of the project "Research and experiment of 10kW Medusa Wave Energy Conversion Device" in Zhuhai City, Guangdong Province, which was undertaken by Guangzhou Institute of Energy Conversion, CAS. The appraisal team consists of seven experts from domestic universities and research institutes.
The directors from the Department of Science and Technology, State Oceanic Administration People's Republic of China and Marine Renewable Energy Management Center of National Ocean Technology Center and the appraisal experts arrived at the sea area in Wanshan Island to check the run of wave energy device, and watched the generating electricity of this device in realistic sea states.
Then, Associated Prof. SHENG Songwei reported the implementation, finance and outcomes of the project. This project was supported by State Oceanic Administration People's Republic of China on August of 2011. Its final aim was to develop a novel offshore floating wave energy conversion device. Until the project expiration date of August of 2013, SHENG'S team solved many key problems of energy conversion, combined Duck wave energy device with semi-submersible barge, and built up the first wave energy conversion device of our own intellectual property, namely Sharp Eagle wave energy conversion device. The electricity power of the developed Sharp Eagle prototype device is 10kW and has run beyond 5040 hours since its launch on December 28, 2012. Nine invention patents have been applied through the implementation of this project, in which there are three international patents and one domestic authorized patent.
The appraisal experts unanimously acknowledged that the project team has successfully developed a novel low-cost, high-reliability and high-efficiency wave energy conversion device, and also suggested the strength of the wave energy measurement while the wave energy device is running and the device reliability research under extreme wave conditions.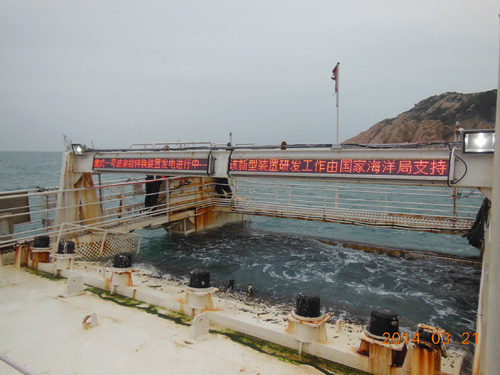 Exhibition of generating electricity by the Sharp Eagle wave energy conversion device before the appraisal of its supported project