Home >> News >> Research Progress
The meeting formedium-term program summary of the National Basic Research Program "Scientific Issues in Micro Energy and Power Systems" was successfully held in Nanjing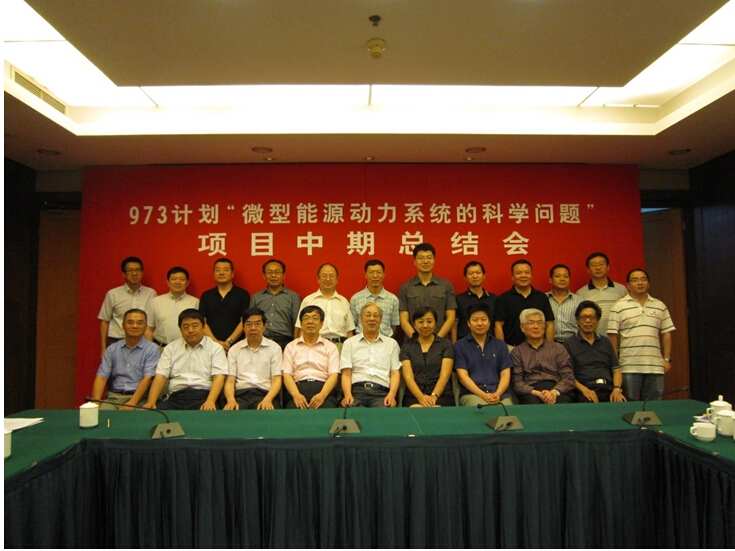 On July23 and 24, 2015, the meeting for medium-term program summary of National Basic Research Program (973 Program) "Scientific Issues in Micro Energy and Power Systems" (No. 2014CB239600), was held in Nanjing, organized by Nanjing University of Aeronautics and Astronautics (NUAA).There were more than 40 participants in this meeting, including Jinding Yan and Fei Li, the deputy directorsof Department of Basic Researchfrom the Ministry of Science and Technology (MOST), Huibin Zhao, the deputy directors of Bureau of Frontier Scienceand Education, Chinese Academy of Sciences (CAS), AcademicianJianzhong Xu, the project consultant expert and other principle investigators, assessment experts and primary researchersresponsible for this project.
The meeting was hosted by Prof. Daiqing Zhao, the Chief Scientist of this project from Guangzhou Institute of Energy Conversion,Chinese Academy of Sciences (GIEC). The aim of this meeting was to report the main research progress of each subproject in the first two years, aspects of the implementation of talent cultivation, cooperation and data sharing to the official and experts, then discuss and evaluate the working status and research prospects of each subproject.
Before the presentations by the three principle investigators, Fei Li, the deputy director from MOST, introduced the management principles of 973 Program and made some requests on the medium-term program summary of the project. Detailed reports on theimplementation of each subproject were carried out then. Team experts made their comments and advisements for the project, which was given sufficient affirmation by the experts. They agreed that these three subprojectswere in good progress, and lots of work on the aspect of theoretical analysis of experimental research and system integration had been carried out, leading to successful achievement of planned research tasks. In addition, some experts pointed out that deeper cooperation and sharing of data in a timely manner need attentions in the next three-year research due to tight relationship between the subprojects. Key breakthroughs on the scientific issues and technical problems for micro power systems were expected.
After the assessment, the expert group and research group set up the adjustment scheme together which consisted of the adjustment of project topics set, research content and objectives, and the research team members. With full discussion with experts, detailed follow-up work deployment and the adjustment plans were determined
The meeting for medium-term program summaryof the 973 program was eventually completed successfullyin Nanjing. Scientific issues of the research project were summarized and determined. Optimization of the project's overall goal, research ideas and innovativetechniques were obtained in the meeting, which provided effective advices and guidance on the implement of the project in the future.