Home >> News >> Top News
1MWe Biomass Gasification Pilot Plant Successfully Put into Commercial Operation in Thailand
On December 2nd, a 1MWe biomass gasification multi-generation pilot plant was successfully connected to local grid and put into commercial operation in Thailand, capable of supplying heat, electricity and fuel gas at the same time. This project was completed by Guangzhou Institute of Energy Conversion, Chinese Academy of Sciences (GIEC) and its partners, under the support of the National Key R&D Program of Ministry of Science and Technology, China. It will supply clean and carbon-neutral energy and contribute to the green Belt and Road Initiative.
Biomass, a renewable non-fossil carbon energy source, has been regarded as an ideal substitute to traditional fossil resources. Featuring in its wide-range utilization, strong fuel- and scale- flexibility, biomass gasification technology is an effective way to realize distributed utilization of combustible solid wastes, and can help achieve sustainable development via fossil energy replacement and greenhouse gases emission reductions.
The biomass thermo-chemical conversion research group in GIEC has developed core technologies and complete sets of devices for multi-generation based on biomass gasification. Researchers overcome a series of technical challenges, such as low gasification efficiency, high tar content in fuel gas and secondary pollution caused by tar wastewater.
After three years of research, design, and construction, a pilot plant with 6MWth gasifier output and 1MWe installed capacity was successfully built in Nakhon Phanom province of Thailand. This plant will provide carbon-neutral energy to local community and contribute to its economic development and environmental protection.
"It has been a long way for this successful happy result", said Prof. Chuangzhi Wu, the project leader in GIEC, "In order to complete the demonstration, our researcher and engineers in GIEC, as well as our partner enterprise have gone through a series of complex procedures, such as approval of BOI (The Board of Investment of Thailand), PPA (Power Purchase Agreement) of power bureau, land purchase, community approval, environmental impact assessment, construction permits and power generation permits, etc. Moreover, the engineering standards of China and Thailand are different. And the local weather is unfavorable with its extreme summer heat and long rainy season. Of course, you can certainly imagine the peaking obstacles and difficulties we encountered these two years after COVID-19 outbreak, regarding the supply and transportation of devices and materials, as well as international travel. So we are really glad that through all of these, we successfully get it done".
The green Belt and Road initiative focuses on a shared future of mankind, and it is the only way to achieve sustainable development. Through joint research and application demonstration, the project has improved the adaptability of China's related technologies and equipment, and promote the application of China's renewable energy technologies in Southeast Asia countries. It will also contribute to high-quality green development of Belt and Road countries and to the realization of the SDGs.
The biomass thermo-chemical conversion research group in GIEC is one of the earliest-known research teams devoted to the R&D of biomass energy technology in China. It has undertaken more than 80 national and provincial projects and has won national and provincial awards for 9 times. In future, GIEC will carry out further R&D and promotion of biomass gasification technology, and further explore effective modes of international transformation of China's scientific and technological achievements.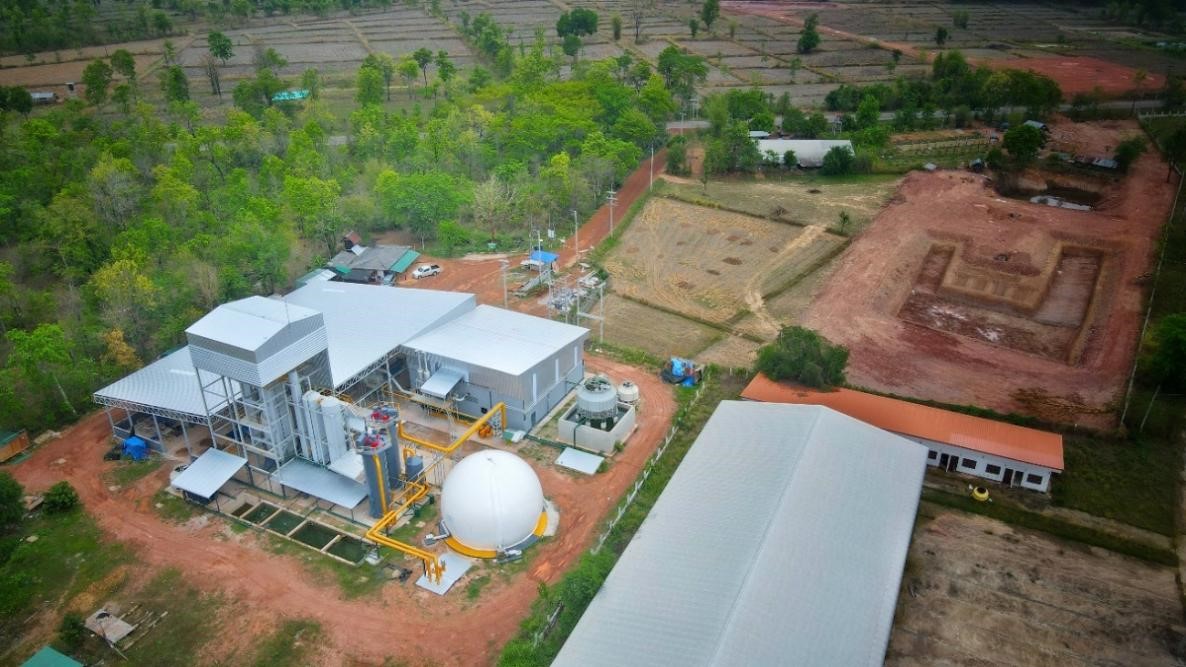 1MWe Biomass Gasification Pilot Plant in Thailand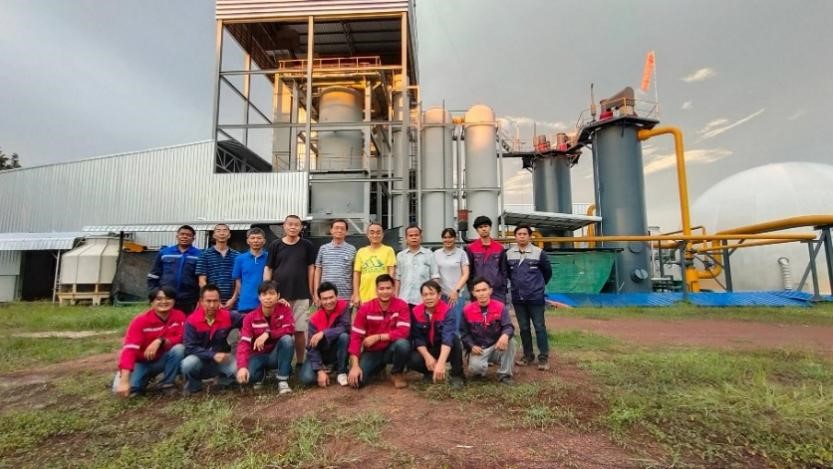 Group Photo at Pilot Plant